Course :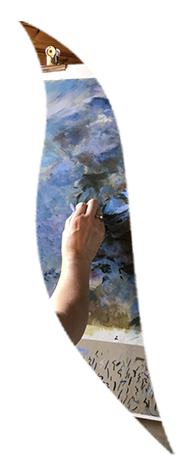 Sylvie Poirson, self-taught pastellist IAPS/MC, was born in Pont-à-Mousson(54 Lorraine).
She divides her working time between Île-de-France and Morbihan.
She has always been attracted to drawing and tried several pictorial techniques before moving on to pastel, which has become her favourite medium.
She works in series on topics related to thel andscape with a predilection for water, reflections and transparencies breaking with pure figuration.
She was trained by following workshops with several pastel masters.

Sylvie Poirson is President of the association  Art du Pastel en France". Member of: Society of Pastellists of France, Pastel in Périgord, Pastel in Burgundy, Pastel of Opal, PSEC (Pastel Society of Eastern Canada), Pasit Italy, Circle of European Artists. Collaborator of the magazine Pratique des Arts.
Awards and Recognition :
2022 : International association of Pastel Societies -41st open division - web show : Best in show Award.
2020 : 2nd prize non figurative / abstract category -22nd Annual Pastel 100 Competition (USA)
2019 : Award of Association of artists in our region - 57th largest formats fair - Mennecy (91). 1st Public Award - 57th big format exhibition - Mennecy (91)
2018 : 2nd Sennelier Prize at the Pastel d'Opale Fair (St Léonard 62)
           Excellence Award - China Pastel Biennial - SUZHOU (China)
2017 : Pastel Jury Prize, "Art and Matter" Salon in Saint-Pierre-les-Nemours (77)
           Drawing Prize and Pastel - Bocage Painters (FLERS 61)
2016 : Crédit Mutuel Award, Salon of painting and sculpture of Antony (92), Girault Pastels Prize, Pastel d'Opale (St-Leonard 62). Prize of the Municipality of Clairefontaine en Yvelines (guest of honor in October 2017)
2015 : 1st prize of the public "Pastel Salon in Yvelines (Le Chesnay), Public Prize" Pastel Salon of South Parisien "Egly, Lions Club Prize" Painters of the Bocage in Flers (60), Hyperrealism Award " Pastel Salon in Brittany, Fougères.
2014 : Public Prize "Salon Art in South Yvelines", Prize of the Giant Fine Arts "Opal Pastel"
2012 : Pastel Prize "Salon Art in South Yvelines" - Clairefontaine.
Bibliography :
"Practice of the Arts" n ° 42 (set / nov2017); No. 31 (Nov 25, 2016); Artists Magazine # 161 (Jan / Feb2013)
Expositions individuelles récentes :
2019 : "Art on the Loire" - Parc de la Perraudière, Charles X pavilion - Tours / Châtillon sur Loire
2016 : îLe d'Oléron
Group exhibitions and trade shows :
- Drawing and Painting Exhibition - Grand Palais - Paris
- International Pastel Fair of the Opal Coast - Boulogne sur Mer (62)
- Large Format Exhibition - Mennecy (91)
- Pastel in Burgundy (Gevrey Chambertin)
- International Pastel Exhibition - Art du Pastel en France (Giverny 27)
- International Pastel Festival - Feytiat (87) - Society of Pastellists of France
- Pastel Tournus International Exhibition (71) - Society of Pastellists of France
- International Pastel and Watercolor Exhibition - Charonton le Pont (94) - Society of Pastellists of France
- Pastel International Exhibition of La Rochelle - (17) Society of Pastellists of France
- Pastel Salon of the Côte de Beauté - Saint-Georges de Didonne (85)
- International Pastel Show - Pastel in Perigord (24)
- Colombier Art Exhibition - St Arnoult en Yvellines (7!)
- Art Exhibition of St Brisson sur Loire (45)
- Pastel exhibition "Pastel China" - Suzhou - China.
- Pastel Exhibition of St Brisson sur Loire (45) Association ACA in partnership with the SPF.
- IAPS Albuquerque (USA) - 34th Juried Exhibition
Artistic approach :
The approach of Sylvie Poirson, pastellist, could be similar to that of the director Antonioni of the film "Blow up": Thomas, a young photographer took pictures of a couple of lovers in a park. By developing his photographs in his laboratory, he discovers an unusual detail and by enlarging his prints, he discovers that the detail in the background turns out to be an inert body. Sylvie Poirson, during her walks, pursues with her lens the elements of nature that interest her-often in relation to water- (a wave, a rock, a watercourse) revealing her beauty.
She zooms on the infinitely small, then declines in several planes the chosen image. Then moving away from representation and figuration, she works on this same image with infinite patience. Like a director. Sylvie Poirson likes Monet and Zao Wouki, that is to say, both movement and static. Her pictorial synthesis travels between the tracking shot of Monet and Zao Wou Ki's freeze frame. We will have understood the pastels of Sylvie, an ode to contemplation, invite to interiority, with nature as a backdrop. The artist, like a contemporary hermit walking in the footsteps of Thoreau, surveys his favorite landscapes. Her eye, through the lens of his camera, tracks the visible, which becomes invisible through sensory mutation exalted by the sensual texture of pastel and the colorful vibrations of its subtle monochromes. Sylvie Poirson transforms the landscape and reveals to our eyes other worlds inhabited by a poetic breath, a dreamlike breeze, and sometimes the strangeness when random forms arise that borrow as well from the aquatic world as organic. So we get lost with delight in the colorful film that she reels with sweetness and slowness.
Comment by Brigitte Camus on the work of Sylvie Poirson.